Raised So Far
$43,140.70
Help us raise vital funds
Hold a Bear Drive
To help ensure every beareaved family across Australia receives a pregnancy loss australia official bear.
For every $20 you raise we will donate an official Bear to an Australian hospital or to a bereaved family directly in your baby's honour.
Simply create a Bear Drive fundraising page, email your personal link to your friends, family and colleagues and ask for their support through an online donation.
Pregnancy Loss Australia is the original bear giving program in Australia established 26th October 2002 in Adelaide. The program operates in every state of Australia with the program represented in almost every maternity hospital across the country.

We donate Teddy Bears to bereaved parents, in the hope the bear may help to ease the pain of leaving the hospital with such aching empty arms. We aim to provide parents with the comfort of knowing they are not alone right from the beginning, and offer significant ongoing support & understanding to bereaved parents, their families and friends through our many support services
counselling
1800 free call support line
the resource book
support groups
online support
monthly newsletter
bereavement resources
memorial events
You can make a difference to the many families that have to leave the hospital with such empty arms.

Thank you so much for helping the program reach out to thousands of families across Australia who experince the heartbreaking loss of their babies.



1 in 4 pregnancies end in LOSS

6 babies are stillborn EVERYDAY in Australia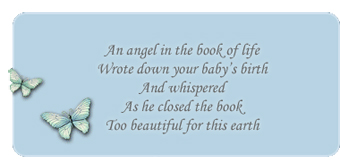 | Supporters | Amount | Message |
| --- | --- | --- |
| Cara Lo Iacono | $30.00 | |
| Liz Bentley | $20.00 | |
| TK's Photography | $50.00 | |
| Krystal Dean | $30.00 | |
| Cara Lo Iacono | $30.00 | |
| Krystal Dean | $30.00 | |
| Anonymous | $50.00 | |
| Rachel Dickerson | $50.00 | Our precious babies,forever in our thoughts - the tears flow and the pain will never go, but the angels came and said it was time to go.... we held you in our arms for 3 precious hours, in our hearts we will hold you forever & never let you go. In loving memory of our daughter Destiny 17th October 2008... |
| Allana Burke | $10.00 | Happy Birthday xavier, sending mummy, daddy, Brayden and your new little brother love and cuddles today xxx love Michael, Allana, Charlotte, my angel Cameron and Chance |
| Jessica Hammond | $8.00 | Anything to help and support my friend and her partner and help keep baby Xaviers spirit alive.xoxox |